Back to work today - made it through the snow, nice and easy, took it slow. And was greeted by my building manager telling me that the landlord wants me and another therapist colleague to move off of the sixth floor because the Lawrence Retirement Board, whose offices are across the hall from us, is complaining that they feel unsafe with our having clients, who are primarily hispanic, in the general waiting area. We were both appalled! This is quite a battle we will both be facing with the landlord right now - there is a nice enough suite on the 5th floor for us, but both feel that the landlord has to pay for us to move since we have done nothing wrong. Sometimes it amazes me what people try to get away with in this world. To me, this is just discrimination against our well-behaved, completely nice clients - who happen to be hispanic. Can you believe it??
My day ended early today because the snow made it hard for patients to drive in or walk in - and the Lawrence cabbies increased their fares today!! - so I had time to stop at Ben Franklin's and pick up that skein of DMC 3770 I need for
Petal Fairy
- now just waiting on that fabric to come in and Karen and I are both good to go on this SAL!! I did get in that fat quarter of 32 ct Star Sapphire lugana today, though. I found that if I paste this
link
into the
Fabric Selector
, and then paste the Petal Fairy from their list right onto it, I can see how my fairy will look on my fabric choice. That is so cool!
Speaking of SAL's - does anyone like Liz Turner Diehl's historical or whimsical gardens?? I just volunteered to moderate the Liz Turner Diehl forum at the
Needle & Thread Bulletin Board
, and was wondering if we could get a SAL going over there.... anyone interested??
Here is something neat that I found and don't want to lose:
Purple Conversion for Fairy Idyll
, and a
progress pic
by the lady who converted this - I love this conversion - found this on the
Mirabilia Bulletin Board
and want to store it here for future reference....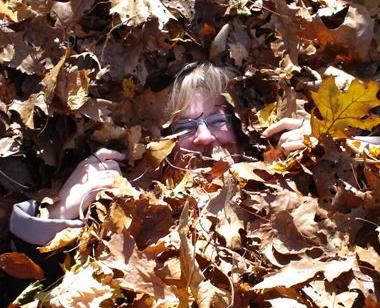 Who is this hiding in the leaves?? Believe it or not, this is designer Jeannette Douglas enjoying herself in Mystic, Connecticut at the Stitcher's Hideaway Retreat in November 2004. This pic is from the fun report on
their website
. I love the candidness of this picture, and had to share. It is hard not to adore Jeannette!
More snow coming on Wednesday..... I can't take any more!!! Arrrrgggh!
Stitched on today:
Little Wings
By the way, looks like I will be dying young - more than halfway through my life span - how about you???