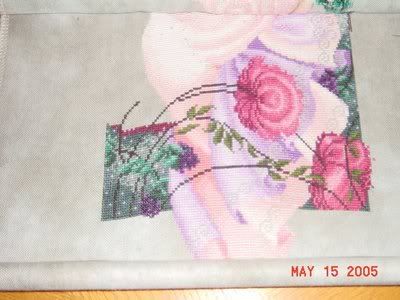 I really wanted to get some work done on
Fairy Flora
today - I didn't manage to be consistent with my stitching tonight, but I did at least get the bottom left corner done and am finally working on that final rose. I feel like I have been stitching this for such a long time now.
I received a lovely box of daylilies from an ebay seller I buy from
very
often. I bought these back in September and here they are now - I wanted to share these beauties here - the pics are from the seller, Beth W.

Country Music Queen....
Festive Art...

And, It's Ours... I planted these in the best, sunniest section of my garden. When they bloom for me this summer, I will surely be sharing those pics.
We also bought two new rose bushes and planted them in the garden in front of our house today - we got
Korde's Perfecta
and
Playboy
. I am really looking forward to these!
We had a bear visit us last night. It took down our birdfeeder
again
. Back to the drawing board.... oh the joys of living on a wooded lot!
I totally forgot - I was up so late last night! - but one of my orders came in yesterday from
Stitching Bits & Bobs
(their turnaround time has definitely improved again!) - this one has the lovely Gloriana silks for
Take Time to Knit
, and lots of beads and Kreiniks for
Moon Fairy Spirit
and
Once Upon A Time
... such a colorful baggie of goodies :-) I just
LOVE
new stash!
Today I was high bidder for
Angel of the Sea
... and I treated myself and ordered
The Good Neighbor
, as well as a cut of cream edinburgh for
Toccata Number Two
directly from The Drawn Thread. I am saddened to have read of Cynthia's health issues and her need to slow down her design schedule for now... :-( I hope she feels better soon - I suppose a reduced schedule should help her with that.
Some good incoming stash today :-) I received my Vintage Meadow Rue linen for
Six Hem Sampler
. And I received
Angel of the New Dawn
from the ebay seller. Best of all, though, was a gift package from Karen K. - four adorable DMC kits featuring Australian birds (which she knows I have been drooling over) - they look like Valerie Pfeiffer designs - this
Single Kookaburra
is one of them - just too cute! I thanked Karen via MSN Messenger, but wish to thank her again publicly - thank you, they are soooo cute!
Red Sox 6, Mariners 3
, thanks to a Grand Slam homerun by Trot Nixon! And, Karen K., you will be happy to know that Keith Foulke came in to close and it took him only nine pitches to retire the three batters he faced to end the game. Yay! Also.... Ryan Newman started on the outside pole in Richmond, VA tonight - he came in third and is now up to 7th in points :-)
Stitched on today:
Fairy Flora