Well, this is as far as I got tonight on
Celtic Band Sampler
before my sinus headache and oncoming head cold got the best of me.... and I will be off to bed early tonight (very rare for me). Too hard to sit up and stitch with this headache.
I received some neat mail today -
1798 Quaker Sampler
from a chart swap (I have long lusted after this one!) and also the Forget-Me-Knots in Stitches chart, Knot Garden, from ebay too :-)
I got tagged again tonight by
Dani
, this time for a movie meme - OK I will give it a try -
1) Total number of films I own on DVD/video:
At present, 1303 DVDs (yep, I am a compulsive DVD shopper!)
2) The last film I bought:
Are We There Yet?
3) The last film I watched:
White Noise
4) Five films that I watch a lot or that mean a lot to me (in no particular order):
The Notebook, The Patriot, Captain Ron, The Matrix, and Chocolat - amongst many others!
5) Tag 5 people and have them put this in their journal:
I tag
Jenn
,
Becky
,
Cathy
,
Nicole
and
Julianna
:-)
Hey, lookey lookey!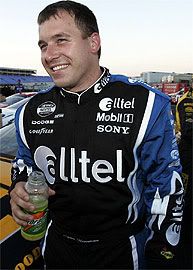 (photo from nascar.com). Ryan Newman is on the pole for the Coca Cola 600 this weekend - apparently he shattered the previous speed record :-) Now, Ryan, time to get a
WIN
!!
Stitched on today:
Peacock Cypher
(just came to the revelation today that I really don't enjoy working on this one much, and as a result will not meet my goal of finishing it this month...) and
Celtic Band Sampler