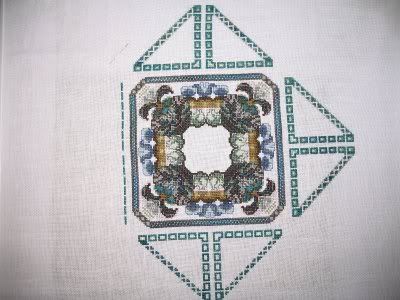 Still motoring my way around Mystery IX.... maybe tomorrow it will be done - looks very likely :-)
Stash report time... over the past week or so.... maybe longer, probably longer... the following has arrived here: Three Little Words by Papillon Creations, Purl the Knitting Fairy by Lynne Nicoletti, A Must Noble Pursuit by various designers, the March 2006 issue of The Gift of Stitching, Black Crow Cottage by Elizabeth's Designs, and Be Kind and True by Blackbird Designs - as well as two Weeks Dye Works and one GAST I needed for it.... Now, why is that Blackbird Designs just came out with the most amazing MUST HAVE charts? Oh my! They have really stepped up in quality (at least, for my taste) in the past few months! I am thrilled - there are more I must get, like My Missouri Home - too nice!
And then I also got my new Monthly Bits option from Stitching Bits & Bobs, and I am thrilled! I have opted to get the six spools of Kreinik #4 braid option - super nice, this selection is labeled "Dance" - all in the 3500 range and so pretty! OK, get out those Mirabilia charts now :-) And, I got in all the Silk Mori skeins for A Stitch in Time by The Workbasket... now to find just the right linen for that one!
And, then I came across these that have been here the longest and were put away elsewhere - a fat quarter of 28 ct Frangipani metallic lugana by Sugar Maple Fabrics, and the much coveted 17th Century German Garden chart by Liz Turner Diehl!! Yay! I emailed LTD, and they gave me the easy directions to get the specialty fibers and embellishments for this one - you know for sure this one is going to be stitched!!
So, I have been told that my husband, Mike, subscribes to my blog and reads it here and there to see "what is going on" in my life - LOL!! Well, Mike is out of town tonight... so Mike, here is my update for you: I had a movie marathon of
Only You
,
Pride & Prejudice
and
Must Love Dogs
- a bunch of movies I love and you are not excited about... and I went out and got an iced coffee too.... and of course, I stitched! And, I picked up
Yours, Mine & Ours
too, but I cannot imagine it will be nearly as good as the original was with Lucille Ball :-)
Stitched on today: Papillon Creations Mystery Sampler at work, and
Mystery IX