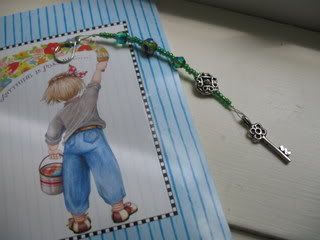 I went out to the mailbox this morning to gather the mail, and what I found brought me fully to tears. I received a package from
Vonna
today that was totally unexpected and totally amazed me! Vonna sent me the stunning beaded scissor fob as a friendship gift. I absolutely cried, as I just don't know how to react when I receive surprise gifts. It has never been my lot in life to receive many surprises or to win anything at all. Even as a child, gifts were very few and very far between. I come from a very loving family that is upper middle class, but gifts were given out sparingly. They still are. That has carried on into my adult life, with one huge exception - Mike is a huge gift giver. Aside from him, I never expect anything at all from anyone. When I do stitching exchanges, I don't even think about the fact that after I send off a gift package, one will come to me as well. That still surprises me when they come in. Anyhow, I gathered myself and really want to say thank you to Vonna - you really made my day, and I have been needing something uplifting lately. You are so sweet! Thank you for thinking of me. You are a dear friend. I shall treasure this fob always, and it is already gracing my favorite pair of hardanger scissors.
It was a pleasure to take out And A Forest Grew again tonight :-) I had missed it. That thing that looks like a coat rack or perhaps a lamp post with arms is actually a tree that is not exactly finished yet :-)
For those who are interested, Mike is selling Gingher 4" embroidery scissors again - three styles: Glory, Cheetah and Julia. His ebay link is
here
.
Also, if anyone is interested in becoming a contributor to the
Freebie Gallery
blog, please email me at carolsutcliffe@comcast.net. I will need your email address in order to send you an invite through Blogger. Thanks :-)
Stitched on today: Finished a gift, started a gift, and And A Forest Grew