This was a nice treat today. I really enjoyed working on Mermaid Heaven again. I just noticed as I was uploading this photo that my WIP photo file indicates that I have not stitched on this one since February 4th! Shame on me! I am hoping to put more emphasis on it now, as I see it is really quite far along and could easily be my next finish. I just love the colors in this one! I started this as a SAL with
Jenn
several months ago, and I am wondering if she would be interested in getting back into this one again now too...
I stumbled across some more stash that I had gotten in recently. It was stashed away by my stitching chair and not on my desk with the rest of the items I posted yesterday: a couple of new UK stitching magazines, Drawn Thread's new Wayward Garden, With My Needle's An Emblem of Love, and a fat quarter of this gorgeous new belfast from Silkweaver called Enchantment. I know of one blogger who plans to stitch Mirabilia's Fairy Moon on this stunning fabric - that sounds like a great idea! I haven't decided yet what to stitch on mine....
And, I was RAK'd today!! I just received Victoria Sampler's Heirloom Memories chart in the mail from
Carol
! We have been having a nice email relationship for a few weeks now, and she saw this chart in my wish list file... and had it sent to me via an ebay seller. Thanks Carol, how sweet! I have wanted to stitch this one in memory of my dad who passed suddenly in December of 1995...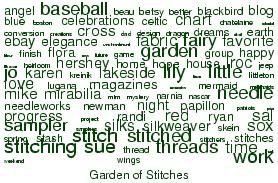 Time for a new word cloud - I like this one
Stitched on today: Papillon Creations Mystery Sampler (in the car while running an errand with Mike down in Foxboro, Massachusetts - right by Gillette Stadium, home of the NE Patriots) and
Mermaid Heaven