My hubby's birthday is today :-) He got his big gift, the Corvette, a couple of weeks ago. But I am making today a short day at work and will go home around 1 or 2 PM to spend the afternoon with him, give him his smaller gifts (standard stuff he relies on every year, like summer shirts) and hopefully he will enjoy his day. Time sure is starting to fly - I can't believe he is 45 already!!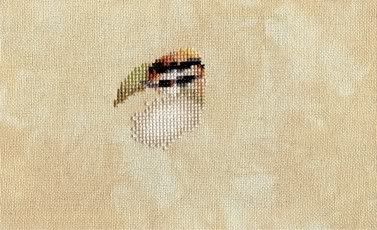 I was in need of a new project that I can bring to work, so I chose the one I had set as my goal to start this month,
Story Time
. I am stitching it on 28 ct Antiquity Jazlyn from Dyeing4U. This is a fun stitch, and I can tell it is going to be a quick one! I am wondering, though, if anyone knows what kind of birds these are? I don't think I have ever seen this variety in New England :-)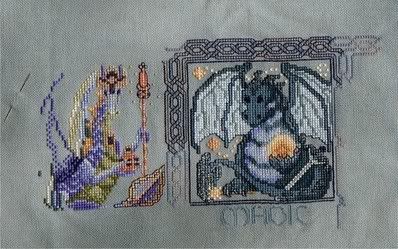 And, here is my updated photo of
Legends of the Dragons
after a few minutes here and there on it at work the past three days... now it will go back into its weekly rotation spot again.

Q.
Are there any types of designs that you won't stitch?
A.
Oh, absolutely! I just cannot stand Precious Moments! I hope that doesn't offend anyone!! I also don't like to stitch cutesy designs. I did just buy Glory Bee's Bon Bini, which is a little cutesy, but it is so reflective of our trips to Aruba that I will excuse its cutesy nature this time around :-) I used to have firmer guidelines - like I wouldn't stitch a natural animal scene... until I came across Kingfisher in Cross Stitch Gold, and that changed that!! I won't stitch something I don't like, or that I cannot find a place to hang. I adore Noah's Sub, but am not sure I will ever stitch it because it doesn't fit my decor.... so I guess that is my bottom line, if I don't like it or it has no place to go, it doesn't get stitched...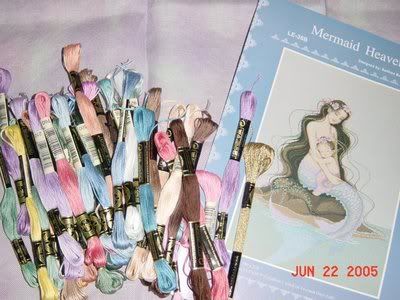 I have changed my mind again about what fabric to use for the
Mermaid Heaven
SAL starting July 4th weekend! Originally I planned to use Silkweaver's Meadow Mist lugana, 32 ct. But I was in one of my fabric boxes a few nights ago and my fat quarter of Sugar Maple Fabrics Impressionism Cashel jumped right out at me! I pulled out the floss and I loved it! The fabric is lavender and aqua, not so very bright, blended together like a misty dawn. Wow, so much more interesting than the Meadow Mist, plus I was more in the mood to use a 28 ct for this pattern. I am posting a photo of my floss toss...
Jenn
, what do you think?
********Would anyone like to adopt either my used Fairy Flora or used Shimmering Mermaid charts?? They show some wear, so I surely wouldn't put them up on ebay, but they are still really useable and I would prefer to post them off to a good home than to either store them away for eternity or dispose of them.... anyone??
(edited to add: Shimmering Mermaid has a new home in SC...and Fairy Flora is off to Singapore!)
I have seen a lot of comments in blogs lately about stitchers being dissatisfied with ordering hand dyed fabrics off the internet. I figured I would share some info I got from the owner of Dyeing4U a few months ago when I got a fabric in that was not what I expected.... not all fabrics take dye the same way. Most of the internet sites show their color swatches on either lugana or jobelan, unless otherwise noted. Linen takes dye the darkest, followed by jobelan, and finally by lugana. If you want dark and bright, you have to go with linen. If you really want an evenweave, then select the jobelan. She didn't say anything about jazlyn, but I have some and noticed it dyes well, like the jobelan does. I have no idea about tula, since I do not use tula. It's just a basic rule of thumb that might help save some disappointment for you if you are ordering off the net. Of course, there are just always going to be those times when swatches don't match. Another dyer told me it may have been my monitor, but when I checked on several computers I saw the same color each time... go figure! (By the way, Dyeing4U, Silkweaver and Sugar Maple Fabrics have
all
happily exchanged fabric for me, no questions asked, no extra charge... so the risk isn't that bad anyhow...just don't be afraid to ask for help from the dyer.... Most noteably, just last night I asked Silkweaver about the 32 ct Ametrine Reflections lugana I ordered a couple of weeks ago - the base fabric is backordered, so they offered to upgrade me to the Ametrine opalescent linen for absolutely no extra charge - excellent, excellent customer service!).
I had a fun ebay win last night - for a rock bottom price I got
Autumn Feeder
, and today I got a fat quarter of 28 ct Antique White linen, an essential to the stash, for a bargain basement price from one of my favorite sellers... pretty cool!
I found Stitches and Stuff's new location in Candia, NH this afternoon. I came across their new address and put it in my GPS as I was driving home. It is only about seven minutes from my house! I didn't go in because I wanted to get home to spend time with Mike on his birthday. I will go soon, though. I hope she has increased her inventory. She had only start up stuff when she was in Raymond, NH... I am looking forward to going soon to check it out!
Red Sox 5, Indians 4
- excellent game! Now we are only one game out of first place (for now, at least - LOL).
Stitched on today:
Legends of the Dragons
at work, and
Story Time