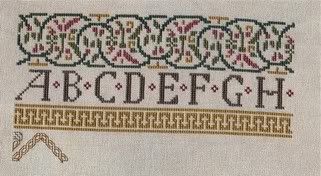 I had such great intentions tonight to make some real progress on
Celtic Band Sampler
, but I did not achieve as much as I wanted to - I am suffering tonight from a case of caffeine-induced ADD brought on by having a large coconut iced coffee from Dunkin' Donuts after dinner tonight! Stupid, stupid, stupid :-) I was so restless working on this sampler.... the gold band of crosses felt like the Boston Marathon to me!
OK, call me insane... why not, you would probably be right!... but I went and signed up for another FOTM!!! This time I signed up with
Heaven Lee Creations
, also known as The Blended Needle. I am going with their fat quarter of 32 ct evenweave each month... can't wait to see what I get! Their cost is the same as Silkweaver's. They have a great custom fabric for
Emma's Garden
on their site, so I think I will run upstairs to my stash and see if I still have that one - if I do, I am getting that cool fabric for it!

Nice, isn't it??!! (Couldn't find my chart - I bet I sold it on ebay figuring I would never be brave enough to dye my own fabric! So... I just ordered the chart, along with some GAST and Weeks that are rather new and not in my stash yet.... then went and ordered that fabric from Heaven Lee too! Cool!).
A little bit of shopping on my way home today... I finally stopped at Borders and picked up this magazine:

Had to have it due to my love of DMC Flower Fairies, and it did not disappoint me :-) I also adore the Shoe Princess chart in it too :-) Then I stopped at WalMart and got the DMC floss for
Night
- I really want to start this one, but am pretty much sitting on my hands right now to stop myself until I finish something first! Now
Jenn
is also trying to tempt me to start our
Mermaid Heaven
SAL early.... oh, I better get something finished soon!
Red Sox 7, Angels 4
... a good night :-)
I took some more iris photos today, but I forgot to get them off my camera, so maybe tomorrow.... the garden is really starting to "pop" now!
Rumor has it that DH and I are driving out to Bennington, Vermont tomorrow. That is about two hours away from here. He wants to trade in his 2001 yellow/black Corvette for a 2005 silver/black Corvette... seems the one he can find that meets his specs is up there... sigh.... I would love to bring some stitching, but have learned the hard way that it is near impossible to stitch in a Corvette with the top down :-)
Stitched on today:
Peacock Cypher
and
Celtic Band Sampler