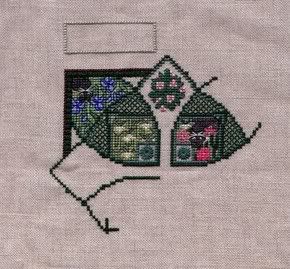 Here is a little bit of work on
17th Century Irish Garden
for tonight - I started the Greek cross stitches in the rectangular garden at the top, decided I hated LTD's stitch diagrams, and pulled them out - will either search for better diagrams or rework them in another fashion (already have the idea of what I want to do....)....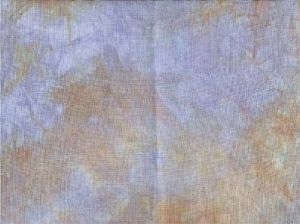 While visiting
Picture This Plus
to do a favor ordering a chart for a friend out of the States, I came across this DaVinci belfast and ordered up a fat quarter right away (but ugh, they had a significant price increase a couple of days ago....sigh....I still bought it...). It really caught my eye, and I have to wait to see the fabric, but am thinking that maybe
Enchanted Mermaid
will work well on it... have to see the colors in real life first :-) Still love this fabric though!
I received my July 2005 issue of
Stitcher's World
today - but it is not the issue with the Maria van Scharrenburg design in it.... that was the May issue... somehow that never arrived here. I emailed them... I hope they will send it to me. Otherwise, I will run out to Ben Franklin in Raymond, NH (the one not closing right now) and pick up the copy.....
Karen V.
asked today when a progress pic of
Peacock Cypher
would be posted. Well, although I get some time each workday to stitch on it, sometimes it is only a couple of stitches :-) So, I was thinking I would post one when I finish the second section... which is a little bit away still. But, I did set a goal to finish this sampler this month, so I will do my best to get moving on it - and post a progress picture too :-)
Red Sox 5, Tigers 3
, thanks to a Grand Slam by Doug Mirabelli!!!! Woo Hoo!
I am really excited about this:
National Treasure
was released on DVD today, and mine is waiting for me here.... but the game ran too late to watch it tonight :-(
Stitched on today:
Peacock Cypher
and
17th Century Irish Garden