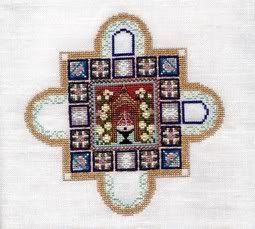 Medieval Town Mandala night - didn't really get a lot done, pretty much distracted with watching football. Also, I need to go visit the Yahoo group for this project - I see an area that looks like it needs outlining, and Martina writes nothing about it - I have to cruise over there and see if anyone else has asked about that now...
Warning: I am about to vent - skip if you want..And you probably will want to!!
Well, ladies, here is what I think is a decent example of how unlucky I really, really am. My long-awaited Silkweaver Medium Treat Bag finally did arrive today... and not all Medium Treat Bags are created equal, I have discovered. While my fellow bloggers posted lovely fat quarters of Expressions Belfast or Reflections fabrics.... I received a very dull 28 ct Jobelan Solo... I cannot describe it, it is very plain with really no mottling to it and I guess looks a little like well, beige. I also received a 10" x 10" piece of 32 ct natural, a 13" x 18" piece of 32 ct baby lotion and a 9" x 12" piece 32 ct Sandstone (which is silk linen - never touched it before - very stiff). I also received a 9"x13" hand dyed fabric, but again not a named one - just a dull blue 28 ct jobelan solo :-( I don't mean to complain, and you all know I am an upbeat person, but after seeing your bags I feel very let down by mine. There was one highlight in my bag, though. I guess they knew my bag was not as good as the others because they tried to make up for it by adding a 13" x 18" cut of Lakeside Linens 36 ct linen in Vintage Pear... which is very pretty. My expectations here were too high. For days I imagined and wondered what lovely Expressions belfast or Reflections fabric I would receive. Now I know - NONE. I don't win things, and I don't have good luck. **I realize that I do have a lot of lovely hand dyed fabric, and I don't at all mean to sound selfish, but I did pay what everyone else paid, and I just expected what most of you got too :-( Why, at 42 years old, have I not learned not to expect anything?? It's really all my own fault in the end. I did, however, email Silkweaver to ask if they are out of the named fabrics - I stupidly ordered a second bag to give as a gift and fear it will be lousy like this one.
OK, I got some better stash in today, though - it's Monday, that's when stuff comes in here LOL! I got in, at long last, the fat quarter of Mithril 32 ct lugana by Country Stitch - yep, a good candidate for Mermaids of the Deep Blue! Now I feel better! I also received, in the same package as the treat bag but not for reduced shipping, a stunning belfast solo I swooped in on last Tuesday - it is very fiery in plums, reddish and brown tones - I am thinking of it for Feather Fairy. Also, the Flower Seller Kit, Coffee Dragon chart, the linen floss for the flower fairy, and some supplies for Ottawa Sampler came in - Gloriana Silk, Weeks Dye Works and Mill Hill Beads - just waiting on some Needle Necessities #4 Kreinik braid and I can stitch that one now :-)
The dentist called today - my first crown is scheduled for Wednesday, November 16th. That's the tooth with the filling that broke last week. Man, it hurts today - but I couldn't fit in the work until 11/16.... if I seem grumpy for a week, you'll know why :-)
Your Fortune Is
Beauty is only a light switch away.
Stitched on today:
Medieval Town Mandala